Table of Contents:
When you check into a hotel, you expect a soft, comfortable bed with luxurious pillows to provide a good night's sleep. But have you ever wondered why hotel pillows are so different from the ones you have at home? So, what makes a hotel pillow so special?
Hotel pillows are specifically handpicked to ensure maximum comfort and support for the user. Every hotel invests in finding the best pillows to deliver the best quality sleep, which is why you experience a noticeable difference. It is part of the hospitality industry's commitment to providing quality service, and that's why every detail matters.
Use this guide to help you find the same quality pillows, whether for your own hospitality business or at home. Take note of the features and materials that hotels specifically look for when buying pillows.
Why Are Hotel Pillows Comfortable?
Many factors contribute to ensuring high-quality hotel pillows. They're not just like any ordinary pillow. They are packed with features that ensure every guest is comfortable.
High-Quality Materials
Hotel pillows are manufactured using premium materials, such as feather, down and some synthetic fibres. Hotels pick only the best to ensure a relaxing sleep at night.
Memory foam pillows are another popular choice for hotel owners. They are made of specialized foam that conforms to your shape. Therefore, this type of pillow delivers superior support to the user. Memory foam is especially beneficial for people with neck or back pain. The memory foam material conforms to the natural curve of the head and neck instead of the sleeper having to adjust their position. Therefore, it helps to alleviate pain and discomfort. It's why memory foam pillows are chosen in many modern hotels. Most of the materials used in hotel pillows are hypoallergenic. A hypoallergenic material ensures that hotel guests sleep comfortably without worrying about triggering their allergies.
Down and feather pillows are another example of high-quality pillows used by hotels. Down is from the chest of a bird, it is soft, warm and lightweight. The softness gives it a luxurious feel, ideal in a hotel setting. Feather pillows are slightly firmer, which makes them an excellent choice for those needing extra support. They are firm without compromising on the sleeping experience.
Size and Shape
The size and shape of hotel pillows are also important. Hotels use larger pillows than you would typically have at home. The larger pillows give you more surface area to rest your head and neck. They also ensure better weight distribution on the pillow to ease pressure on the head.
Hotels sometimes have pillows custom-made to ensure that they are unique and suited to the specific requirements of the hotel guests. For example, hotels have curved shaped pillows for neck and back sleepers. When guests wake up the next morning, they won't have to deal with body pains. A gusseted design also delivers the right amount of support.
Firmness
The firmness of hotel pillows is another factor that directly impacts the comfort level of its user. Hotels understand that each customer has unique preferences for the firmness of their pillow. Therefore, they offer pillows at varying firmness levels to suit each customer's preference.
Hotels typically offer soft, medium and firm pillows. Hotel guests can indicate their preferred firmness level so they can sleep comfortably.
Maintenance
Maintenance plays a significant role in ensuring the best experience for guests when using the hotel pillows. Since hotels invest in high-quality pillows, they also invest in their maintenance. Hotel staff follow the specific cleaning and maintenance requirements for each type of pillow, depending on the size, shape and material.
Hotels also go the extra mile to keep pillows clean and fresh. Therefore, you can rest easy, knowing the pillows are well-maintained.
Thread Count
The thread count is another factor that makes hotel pillows have a luxury feel. You might not consider the thread count at home when buying your pillows. But hotels pay attention to this detail because it impacts the quality and comfort of the pillow.
Look for a higher thread count for a softer, more comfortable pillow. Hotel pillowcases often have a thread count of 300 or higher. A low thread count can result in a coarse fabric, causing an unpleasant sleeping experience.
Types of Hotel Pillows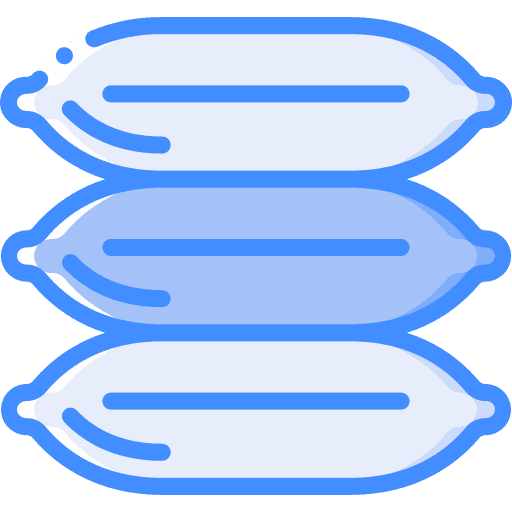 Down Pillows
Down pillows are a popular pillow choice for hotels. They are obtained from the underbelly of birds. Despite being incredibly soft, down can mould to the shape of your head and neck. Down pillows are also lightweight and easy to maintain.
Memory Foam Pillows
Memory foam pillows are made of a particular type of foam. They react to the heat and pressure of the body. Memory foam technology conforms to your shape. That's why memory foam pillows are recommended for chronic neck pain patients. They alleviate pain and discomfort to ensure you get a good night's sleep.
Synthetic Pillows
Synthetic pillows are any pillow made of synthetic materials, such as microfibre or polyester. Hotels use them as a budget-friendly alternative to down pillows. Not only are they less expensive, but they are also hypoallergenic. In addition, synthetic pillows are firmer in shape, offering sufficient support for hotel guests who need them.
Feather Pillows
Feather pillows are as comfortable as down pillows but less expensive. They are recommended for hotel guests who like down pillows but want a firmer feather pillow. With that being said, there are other pillow types that are more supportive than feather.
Buckwheat Pillows
Some hotels also use buckwheat pillows, which are filled with hulls of buckwheat seeds. They are also a good choice for their ability to deliver a comfortable sleeping experience. Buckwheat is the best choice for hotel guests who suffer from allergies and prefer a firmer pillow.
Latex Pillows
Latex pillows are a special type of pillow that hotels often use. They are made of specialized rubber that is resilient and durable. This type of pillow is also recommended for allergies.
Choosing the Right Pillow
In some hotels, guests can input special instructions to specify the type of pillow they want to use during their stay. Most hotels also offer a pillow menu for their guests.
Here are the factors to consider to help you choose the right pillow:
Loft
Loft refers to the thickness of the pillow. Aside from the materials and the filling, the thickness is another factor that can impact the comfort level.
The correct loft keeps the head and neck in a neutral position. It also reduces strain on the muscles and joints around the neck. Here is a breakdown of the different loft levels and how they can impact sleep when using the pillow:
Low Loft – It is recommended for people with neck pain or those who sleep on their stomachs. It is 3 inches thick or less.
Medium Loft – It is recommended for back sleepers since the pillow is 3 to 5 inches thick.
High Loft – It is recommended for side sleepers since the pillow is over 5 inches thick.
Pillow Size
Pillow size is an essential factor in choosing hotel pillows. Hotels make sure that they offer a variety of pillow sizes to ensure that they can accommodate their guests' specific needs and sleeping requirements.
Firmness Level
The firmness of the pillow should not be confused with the loft level. It refers to how firm the material is and the level of support it offers the user. Some guests like soft pillows, while others want something firmer. The firmness of a pillow is all down to personal preference.
Pick a High-Quality Pillow Cover
The pillow cover is a vital factor in determining the pillow's comfort. Comfort, softness and breathability are all good characteristics of a good pillow cover. Cotton is the most popular material for pillow covers because it has those characteristics. Cotton is also an excellent pillow cover material for those with allergies. Pillow protectors can be used to protect your pillow from damage.
The next common type of pillow cover material is bamboo. Like cotton, it is soft and breathable. Meanwhile, hotels choose bamboo pillow covers because it is eco-friendly and sustainable.
Finally, silk pillow covers are a hotel's go-to choice since they offer a smooth and luxurious feel. They are ideal for regulating body temperature. However, silk pillow covers are more expensive than cotton and bamboo materials. They also require special care to maintain their quality.